Inspiring you to live the best lifestyle you can… this is my passion!
Connecting lifestyle with community is why I love what I do. Living in the Vail Valley is almost as close to heaven as you can get. All four seasons are beautiful. Outdoor activities are abundant. The community is rich with culture, connectivity and the people are genuine. The close proximity to Denver International Airport and our regional Vail Valley Jet Center make it an effortless destination for vacationers, primary or secondary homeowners.
When my clients are looking to purchase a home here, these are the reasons typically which are at the top of the list. In wake of the pandemic, I believe more companies are going to begin instituting a policy about additional remote working within the workplace and the results of my personal survey support this. In addition, according to a recent CNBC article,
Once the economy reopens, 24% say they'd like to work either entirely or more from home compared to how they worked before, while 55% plan to head back to the office.
Twitter CEO Jack Dorsey told his employees on Tuesday that many of them will be allowed to work from home in perpetuity, even after the coronavirus pandemic ends, according to a company spokesperson. Read More
"Opening offices will be our decision," the spokesperson said. "When and if our employees come back, will be theirs."
Perhaps, there is a shining light throughout this pandemic. People are realizing how important family and friends are. Consistently, I am hearing people from all over the country reevaluating their life and lifestyle. This will ultimately affect where they want to live according to their respective lifestyle. In doing so, I anticipate resort towns, like the Vail Valley, to become more popular than ever as a place to call home.
I recently conducted a survey from people across the country to get their take on their work-life before, during and after COVID-19. The results were intriguing, so take a look at the preview below and click the link to view the whole survey.
---
We're Here When The Time Is Right For You
A collaboration on the lighter side with one group of my talented broker network from across the county! It was so great to see my professional colleagues across the country showcase their secret hidden talents – aside from real estate!
I bet you can't guess what mine is…
---
A Few Great Finds
211 Hackamore Road, Edwards
$1,695,000
5 Beds  |  6 Baths  |  4,751 SF
Amazing opportunity! Own this two-unit, mountain modern home. Both the 3-bed and 2-bed residences are self-contained complete with two high-end kitchens and finishes throughout. Live in one half and rent the other for an estimated $3K-$4K/month or host out of town guests. Finish details include radiant heat, vaulted ceilings, exposed beams, polished concrete floors, marble kitchen islands and 6 burner gas cooktops. Built to highly efficient commercial standards.
Listing courtesy of Keller Williams Mountain Properties.
For information on properties similar to this one that may be temporarily off the market,
contact me to be the first to know!
---
Market Update Since Showings Resumed
On April 27th, real estate showings with some limitations were allowed to resume with proper precautions in place. Since that date, the Vail Valley real estate market has seen a significant amount of activity as outlined below.
To give a bit of perspective, in comparison to the same time period of 4/27 – 5/13 of 2019, $66,768,913 was sold. For this same period in 2020, we've closed $51,641,564 or 77% of the volume sold in 2019.
The average sold price for this period in 2020 has also increased 49% compared to the same period in 2019.
Since May 1st, we have seen 66 new listings. Possibly the most significant to note, for the month of April 2020, there were 46 residential properties that went under contract. Just in the past 13 days, a whopping 50 residential properties have gone under contract!
---
Land Title Market Analysis – March 2020
*Land Title market reports encompass sales of all property types within all of Eagle County.
Eagle County real estate started off strong through the first two weeks in March which helped finish the month with $148,690,532 in total dollar volume and 114 transactions. Eagle County is now 19% higher in dollar volume and 4% lower in transaction year to date compared to 2019.
Vail Village continued to be active with more than $34M in sales volume in March, with the highest priced sale at $14.5M taking place at Solaris. The highest PPSF was a duplex in Vail Village with a selling price of $12M; $2,609 PPSF.
The high dollar volume start to 2020 has helped increase the overall average sales price to $1.4M year to date with a median price of $715,000, county wide.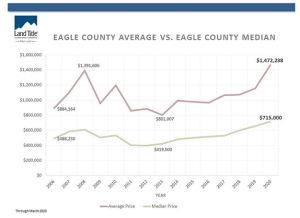 Transactions were spread throughout the county with Gypsum having 14, while Beaver Creek had 11. These 11 sales in Beaver Creek had a median price of $1,985,000. Year to date, Beaver Creek multi family homes PPSF have increased 4% over 2019.
New construction sales continue to remain strong with 12 sales in March totaling more than $13M. The highest sale was at The Lion for $3.2M.