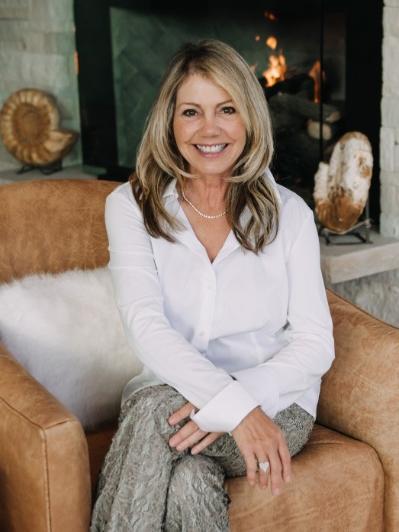 Andie Ohde
Realtor
CRS GRI SFR
Your Vail Lifestyle Matchmaker
LIV Sotheby's International Realty
LIV Sotheby's International Realty
34253 U.S. 6
Edwards, Colorado 81632
Andie Ohde's career in real estate is all about lifestyle matchmaking and that's where she excels. She looks beyond the home purchase because it's about honoring the needs of her clients and it's what drives her passion for the Vail Valley. Andie always has a comprehensive understanding of the market and ever-changing technology which allows her to strategically market properties and utilize resources to get results. She has a keen eye and expertise in connecting buyers with lifestyle; often uncovering properties they otherwise would not have found. Through her trusted connections in the community, she frequently knows about properties prior to them being entered into the MLS. Andie harnesses the power of the Sotheby's International Realty brand network to cultivate true and lasting relationships with like-minded colleagues from across the country including her exclusive network known as "The Collective."
Her passion for collaboration, innovation and a boldness to try new opportunities is what has led her to continue raising the bar with nearly 200 transactions to date. Andie has lived and served the tight-knit Vail community since 1984 and she remains a "go-to" top producer for buyers and sellers of discerning tastes since 1997. Her success began with the guidance of her father who was a best-selling author and national speaker. As a result, her formative years involved touring homes, assisting with remodels, and selling her father's books at CAR and NAR conferences.
During the economic downturn, Andie built a short sale facilitation business partnership assisting fellow brokers and their clients to achieve positive outcomes and sales during a time of uncertainty – a clear advantage in the competitive and ever-changing marketplace. Having previously served in the Title industry, Andie has a wealth of vetted and reliable resources including bankers and lenders of mutual respect and understanding, to brokers, stagers, and world-class photographers. She relies on these cultivated relationships to deliver a seamless, full-service experience, with maximum return and minimum bother.
As enthusiastic as she is about lifestyle and real estate, Andie is equally as passionate about giving back to the Vail Valley community. She either has been or is currently involved with several charitable organizations including: The Vail Symposium, Small Champions, Special Olympics, Habitat for Humanity, and Walking Mountains. Her daughter, Jade, is on the Autistic Spectrum and was in the Small Champions program; she now participates in array of sports at Special Olympics. This inspired Andie to create a fundraising golf tournament for Small Champions, which she chaired for five years, and it continues to be a major fundraiser today.
When she's not with clients, Andie can be found on the golf course at Frost Creek Club where she is a member or skiing her favorite run on Vail Mountain – Top to Bottom Ledges. She has played golf on every course in the Vail Valley, has a 9.4 handicap and her small "claim to fame" is she has accomplished being a club champion in her 20s, 30s, 40s and 50s! Working with Andie means that trust, excellence, integrity, service, and confidentiality are paramount. If you are in the market for a needle-in-the-haystack agent who manages everything with grace, professionalism, and ease, Andie Ohde is for you.
Graduate, REALTOR® Institute (GRI)
Resort & Second Home Property Specialist (RSPS)
Short Sales and Foreclosure Resource Certification (SFR®)
Certified Residential Specialist (CRS) Designation
Crypto Currency Agent (CCA) Certification
Highly likely to recommend
2022-10-31 - skinnerarity
323 Golden Eagle Dr Eagle, CO 81631
Our recent experience with Andie was wonderful. She has excellent insights into the nuances of the local real estate market and was always very quick to respond to questions that we had throughout the process. We would highly recommend Andie to anyone who's relocating to the Vail Valley or moving to a new home in the area. She has long-standing relationships in the Valley and is a trusted real estate advisor.
Highly likely to recommend
2017-09-17 - hltljohn
909 ute forest edwards co
Andie is a consummate professional Realtor. She is responsive, knowledgeable, creative and tireless. It's a pleasure to recommend her to both buyers and sellers.
Highly likely to recommend
2022-06-10 - zuser20170529180017534
1305 Crazy Horse Cir Edwards, CO 81632
We got very lucky in meeting Andie! Her insider knowledge led us to finding a house that wasn't yet on the market, and she also worked her magic to help negotiate a price we were comfortable with. Trust me, you want her working for you if you are looking for a home in the Vail Valley!
Highly likely to recommend
2020-10-11 - garymerenstein
1650 Fallridge Rd #101, Vail, CO 81657
Andie served as a broker for me in a real estate transaction and did a great job. She is very knowledgeable about vail area real estate. Andie was always very professional and available to answer my questions. She is also very enthusiastic and she loves her job. I highly recommend Andie. gary merenstein
Highly likely to recommend
2022-10-10 - nedra02
323 Golden Eagle Dr Eagle, CO 81631
Andie is personally known to us and have been blessed by her compassionate heart. She isn't just your real estate professional, she is a friend and seeks to understand the needs of her clients on a very personal level. Our selling experience with her was seamless and stress free. She communicates regularly and has a well rounded knowledge of the Vail Valley real estate market. She is an expert in her field and we are grateful for her care over our sale...in 14 days from listing...for 20% above the highest sale in our neighborhood! We highly recommend Andie Ohde to anyone looking for a great real estate representative in the Vail Valley. She's the best!
Highly likely to recommend
2021-10-29 - candyarbour
1061 W Beaver Creek Blvd #L304 Avon, CO 81620
Every realtor should aspire to be like Andie Ohde! We've done six transactions with her, both large and modest in the Vail Valley, and she has ALWAYS been the consummate professional when representing our family. Her spot-on advice, negotiating skills and coaching, as well as her responsiveness make her (in our opinion) the best in the valley!
Highly likely to recommend
2021-01-08 - debjhop
177 Lake St #24, Avon, CO 81620
Andie was a professional and knowledgeable advisor throughout our home search. We were looking for a vacation home to share with our adult children and there were a lot of personalities involved in the search process. Andie navigated all of our wish lists and she and her team made sure we each had all the information we needed to make an informed decision and feel comfortable with our final choice. Andie also advocated for us throughout the inspection and contract process, which was so important since we were negotiating mostly from a distance due to the pandemic. We had all paperwork, contracts and inspection notes in good time and with every question answered and fully explained. Finally, Andie is also a very kind and compassionate person who went far above and beyond any professional obligations in helping our son when he became extremely ill during one of their day-long appointments viewing multiple properties. She made a complicated process as simple as possible and took away the stress of buying long-distance. We are grateful to have been connected to Andie through a colleague in her Denver office and would definitely use and recommend her services in any other home search in the Vail Valley.
Highly likely to recommend
2021-10-04 - darrencampbell80
132 Shooting Star, Avon, CO 81620
Andie has been an invaluable resource to us as we searched and found our dream home in Colorado. She tirelessly worked for us throughout the process coordinating so many of the details beyond the scope of what you would normally expect from a realtor. After the sale, she helped us get connected with contractors and decorators, recommended restaurants and events we should attend and helped us get plugged into the community. We have become friends in the process. I would highly recommend using her for your next home.
Highly likely to recommend
2022-03-14 - jfpeters20
600 Sawatch Dr #201 Edwards, CO 81632
Andie had represented us in both a buyers and sellers agent. She is highly professional and very responsive which are qualities that are very important to us.